Less strenuous walks could be along the shore of Lake Nojiri or at Imori ike (pond) in Ikenotaira, where you can enjoy a relaxing walk along the path that circles the pond. In both places you can enjoy a nice meal, snack or coffee afterwards. Maps (Japanese) for walks in the Lake Nojiri area are available here.
Mt. Takatoko 高床山 is a 35 sq.km parklands with wild birds and attractive flora and fauna. It's a vast land with campsites, cottages, tennis courts and other sporting facilities. You can enjoy yourself in various ways in this park, which is open from the end of April to mid of November.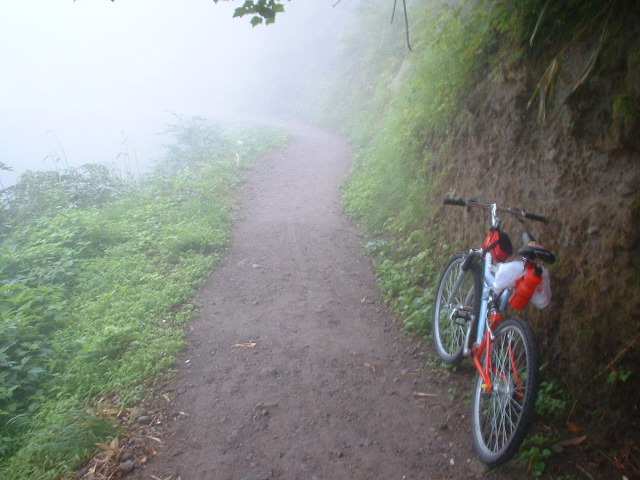 Kyozukayama Park 経塚山 in Arai has a breathtaking beauty, not only when 400 cherry trees are in a full bloom, but from spring to autumn the park offers a variety of colours and great recreational area. The view of Arai city from the park is magnificent.
Mountain biking - There are endless trails and routes to be discovered in the area. It may be best to bring your own trusty wheels, and a recent Japanese government tourism initiative encourages visitors to carry their bikes on trains (at no extra cost). It's better to have a bike bag if doing so as some JR staff insist on one. For the more casual rider rental is available with some of the accommodation packages offered, such as Canadian Log House or in Myoko Pine Valley. In May you can even take part in the Myoko Highland Cycle Festa. Examples of some rides in the local area can be found here.
Water activities - Just about every water activity possible is available at Lake Nojiri, including fishing, swimming, pleasure boats, sailing, windsurfing and even an aquarium. A live cam of the lake is available here. Strolling by the lake is also very pleasant. A more strenuous walk can take in the circumference of the lake. If it's salt water you crave, it's not such a long distance (approximately one hour) to the beach in Tanihama (Naoetsu) or nearby.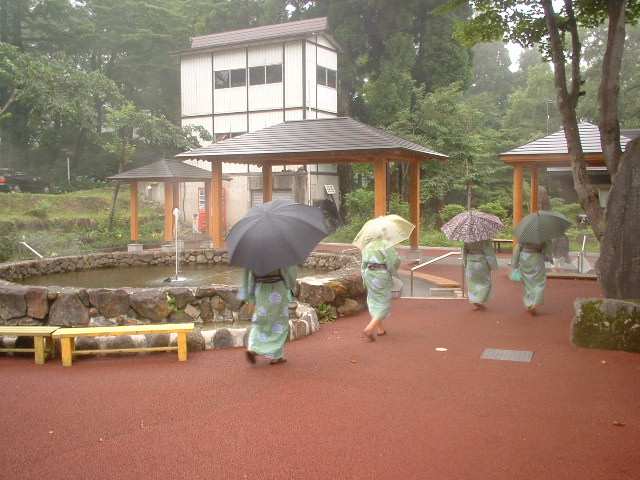 Onsen (Hot Springs) 温泉 - Many of the good hotels in the area have onsen plus there are several fine public onsen. These include 'Landmark' in Ikenotaira, 'Taki-no-yu' rotenburo (outside pool) in Akakura or Tsubame Onsen which boasts white yubana (flower shaped crystals) in its mineral rich waters. In the 1950's Miyami no Sato Village 深山の里 was a home to more than fifty families, but today it is home to only three. The mineral hot-spring will smooth your skin and take the heat and humidness away. This spa is also known as "The spa of beauty!"
Local town onsen are also available and quite inexpensive but usually consist of only one smallish bath. Look for the following symbol on maps and signs when seeking onsen.

Check the onsen page for further details
Amusement Parks
There's a small fun park in Nakago called 'Myoko Sunshine Land' which is open during the warmer months (April to November). Catch the train to Sekiyama, then take a taxi from there which costs about ¥1,000. Admission is ¥1,100 for adults or ¥900 for children under 15. Buy a book of ¥100 coupons and use them to purchase rides. Most rides cost ¥400-¥500. Our recommendation is the reverse bungee chair at a well spent ¥2,000 per fling. Phone 0255-74-2421
The Ninja Village in Togakushi is not an actual village full of ninja or a place to study ninjutsu, but rather a fun and popular place to visit with a ninja theme. It's open 9am-5pm (late April - late Nov.) and closed Thursdays (except mid. July to late August). Admission for adults is 450yen and children (over 4) 200yen. Some group packages are available.
Bird Watching - More than 100 kinds of wild birds inhabit the Togakushi highlands - one of the most renowned areas in Japan for wild birds. Togakushi Forest Botanical Garden (part of the Joshinetsu National Park) covers over seventy hectares and is visited by many bird watchers and hikers.
Waterfalls
The Naena taki (Falls) past Suginosawa was known as one of the best 100 in Japan. Unfortunately the surrounding cliffs were damaged due to floods in 1995 but the area is still quite attractive.
Yomoshiro Falls よもしろう滝. Spring is also the time for love and here is a great love story that goes with the Yomoshirou falls. The legend goes that a long time ago there lived a man by the name of Yomo Shirou and he decided to go and catch a trout for his lover. Unfortunately, he fell into the water and never returned. Out of deep sadness for their lost love his companion decided to follow him. The saying goes, "If you look well into the falls you can still see the two of them swimming together happily ever after." This place is great to visit from spring to autumn…escape the humidity for a while, go for a short hike, enjoy the scenery, and refresh yourself.
The Sou Waterfall past Seki is also very pretty
History - A number of historical sights litter the nearby countryside.
Myokokogen: Perhaps the most famous is the Sekigawa Guard House. In the olden days all visitors coming from Edo (Tokyo) and the Kanto Plains to Echigo had to pass through this point. Today one can visit the museum and gardens on the old site. It is open 9.00-5.00 and admission is ¥500. Phone 0255-86-3280 for more details.
Nagano: In Shinanomachi lies the home of the revered Japanese poet, Issa. Togakushi Shrine nestling amongst 900 year old cedars is just 45 minutes drive from Myokokogen. It's not only a beautiful place to visit but it's delicious soba noodles are also famous throughout Japan. Zenkoji Temple in Nagano City is also a popular tourist spot. Catch the Dentetsu line train to Gondo or Zenkoji stations and then walk about 10 minutes.
Arai: Hida Village 斐太 is a great place to admire the very old Hida shrine (established in 807), where once, a long time ago medicine for paralysis was made. You'll also find a 500 year old, 30 meters high and 5.5 meters wide Zelkova tree, which is considered to be a deity, and used to be the Tree of Arai City (now Myoko). If you feel like exploring more history, you can visit the Museum, which displays earthenware vessels of the Hida ruins and Mangoro Old Tomb, ancient folk art, and farm implements. There are about 400 exhibits in all. At the end of your visit you can relax by the pond, do some fishing, or have a picnic! Hida village is a good place to visit from spring to autumn.
Joetsu: Kasuga Mountain Castle was an impregnable mountain castle and once the home of warlord Uesugi Kenshin. Many remnants of the castle including mounds, moats, and wells remain to this day. Located in Nakayashiki, admission is free.
Golf and Tennis - There are numerous courses and courts in the area if you wish to indulge in these pursuits, plus packages are available from various hotels. Myoko Pine Valley (Phone 0255-82-4111) and Akakura Golf Club are particularly well known in this regard. Check the golf page for for more details or contact one of the Tourist Centres .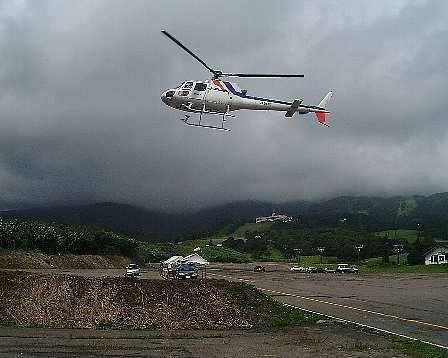 Helicopter rides - Flights leave down from the Akakura Kanko Hotel on certain dates between May and October. The cost is ¥3,500 for children and ¥4,500 for adults. For information and bookings phone 0255-86-3911. The pilot and manager both speak English.
Paragliding - Paragliding classes are run in Arai during the warmer months. Classes start at Y25,000 and tandem rides for Y6,000. Phone Paragliding Arai on 0255-70-1055 for more information.
Noodle-making - Try your skills at making Japanese buckwheat soba-noodles at Nagasawa-chaya 長沢茶屋 in Arai. Having done the noodles you can refresh yourself in the mineral hot spring (i.e. onsen 温泉 ), which is located on the 2nd floor. Afterwards you can eat the soba you've made!

Sumo Wrestling - The famous wrestler Shimotori 霜鳥 was born in Arai, where he also spent his childhood. During summer he comes back to Arai for about three weeks to escape the humidity of Tokyo and practice. Practice is open to the public and it's amazing to see them wrestling just one meter in front of you. Make sure to go and see this! Bringing a present, such as a bag of local koshihikari rice, is most appreciated.
Wine Tasting - In 1898 wine was produced for the first time in Japan at lwanohara Vineyard (in nearby Joetsu) by Kawakami Zenbe'e (1868-1944). Kawakami is recognised as the founder of grape growing and wine making in Japan. After a number of failures Emperor Meiji gave Kawakami's first vintage the brand name of "Kikusui". The vineyard is open for visits throughout the year for tastings and barbecues. One can also view the old cellar and barrels used by Kawakami, as well as the company's modern wine-making facilities. A museum dedicated to Kawakami is open every day except for Monday.