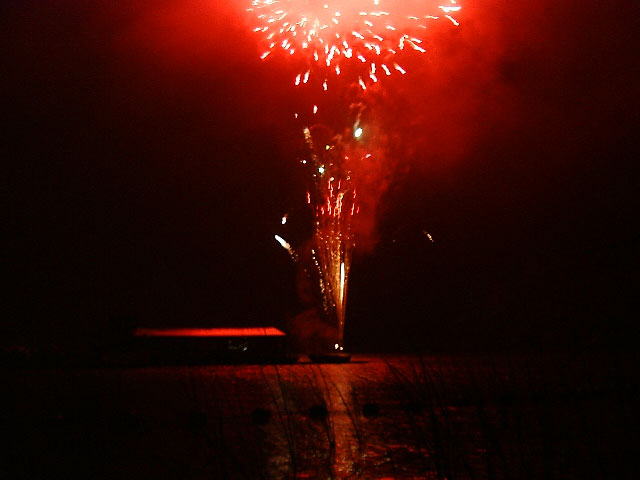 Festivals
Myokokogen Kan-bara Matsuri (festival)
- Held in May of each year in Ikenotaira to celebrate the coming of Spring. This festival is lively one with spectacular fireworks, a lottery, traditional music and dancing, refreshments, music from an army band, and numerous stalls selling many different kinds of food and novelties. Bonfires lit on the side of Mount Myoko can be seen from a long distance away.
Takada o hanami (cherry blossom festival) - Takada koen (park) has more than 3,000 sakura (cherry) trees. Every spring the park bursts forth in a fabulous display of cherry blossoms and plays host to one of Japan's best known o hanami. The evening view with paper lanterns is especially popular. It is about twenty to thirty minutes by train or car from Myoko City.
Arai Festival 新井祭り : This festival takes place on the first weekend in August and is one of the biggest events in the summer. The men of Arai carry on their shoulders Japan's thickest, longest and biggest straw rope through the city. In the evening people of Arai perform a traditional dance in the streets of Arai and enjoy hanabi (fireworks displays). Along the streets evryone joins in traditional Araibayashi 新井ばやし dancing and big barrels of sake are placed so everyone can refresh themselves.

Otaya Festival おたや祭り : Since the Temple was built in 1685 the Otaya festival has been held at Arai Betsuin 新井別院. At the temple the remains of the famous painter Ranshai Mori (1740 - 1801) were put to rest. He studied painting in Nagasaki where he encountered foreign cultures and during his prime worked for the most powerful feudal lord of the time. The festival takes place from the 1st of to the 4th of November. Among other things you can enjoy a parade of children walking through the city dressed in traditional Japanese dress.
Lake Nojiri hanabi (fireworks festival) - A spectacular fireworks display over the lake held near the end of July every year. Try to arrive early - the traffic can be heavy!
Sekiyama Fire matsuri (festival) - Boasting 1200 years of tradition this festival is held in the middle of July each year. Many events take place including traditional stick-fighting, pine-tree pulling, traditional dancing and sumo wrestling, plus the running of a portable mikoshi (shrine). As a finale ritual the branches of a giant pine tree are lit on fire to pray for a good harvest. Held at Sekiyama jinja and other areas throughout the town. Phone 0255-82-2400 for more details.
Togakushi Soba Festival - This celebration is held during the fall equinox, Shūbun no hi. This time also celebrates the buckwheat harvest, without which there would be no soba. Togakushi is famous throughout Japan for it's soba (buckwheat noodles) which come in a variety of sizes and are defined by how much buckwheat flour is used in their creation. At least 30% buckwheat flour must be used in order for noodles to gain the moniker of soba. Higher buckwheat content makes soba much more desirable to the discerning public. People buy small sake cups on the eve of the festival and eat soba (Japanese noodles) at 21 participating restaurants. Admission is free.
Events
Myoko Highland Cycle Festa - A hill climb event open to all ages. The route from Ikenotaira to the Sasagamine pastures is 17 kilometres long with a total vertical difference of 650 metres. The event is usually held in May on the same weekend as the Myokokogen Festival and applications are available online.
Newport Jazz Festival in Madarao - A three day festival held every summer on the beautiful Madarao plateau. Includes workshops and jam sessions as well as performances by well known local and international performers.
Lake Nojiri Triathlon - This is an increasingly popular event for both contestants and spectators. It held every year around the middle of July.
Other Happenings - Calendar
January 1st: New Years Festival - Togakushi Inner Shrine
Mid- February: Iiyama Snow Festival
Mid April: Cherry Blossom Festival in Iiyama and Nakano
April: Cherry blossom viewing in Kyozukayama Park
Early July: Iiyama Gion Festival
Late July: The Mt. 6 MTB World Cup race in Myoko, Nagano and Arai
July 27th: Nojiro-ko Lantern Festival - Lake Nojiri
July 29th: Nojiriko Fireworks - 7:30pm
August 5th: Iiyama Dontokoi
August 14th-16th: Togakushi Shrine Festival
August 14th: Iiyama Fireworks Festival
August 16th: Madarao Kogen Fireworks - 8.00pm
August 23rd: Togakushi Jizo Bon Festival
September 23rd: Togakushi Soba Noodle Festival
Early October: Echigo Arai Koshihikari Marathon
Early October: Matsugamine Marathon in Nakago Village
Early December: Opening festival for all Myokokogen ski resorts
Mid December: Myokokogen Ski
jinja matsuri
(Shrine Festival)
December 22nd: Shin-Myoko White Christmas celebration