Japan Alps 2002
Visitor number (since September 2002):
Karaoke and payback time...
It had been a long time since we had been able to go snowboarding so we resolved we could wait no longer and that Chinese New Year was our time. Other friends became interested too and would meet up with us for part of the journey along the way. It almost didn't get off to a very good start. Because tickets are pretty pricey during the Chinese New Year we had booked our fares using up up some of our Ansett frequent flyer points. Unfortunately they fell into an abyss during September, just after we had received our tickets. Fortunately A.N.A., the partner airline we had the tickets for, promised to honour them. Still left us with a lot of unused points though.
The next setback was when our power went off the night before we were due to leave. Subsequently we got up late and rushed to get a taxi. Next, I was taking a mountain bike back with me to leave in Myoko, and it didn't look like it was going to fit in the taxi. But with a bit of good old Chinese heave-ho it was in, and we were off. The driver took the new ring-route to Pudong (yes, a taxi driver in Shanghai who actually knows and goes the quickest way...), and got us into Pudong airport with plenty of time to spare. In fact the counters were not even open yet for checking in. That was fine as we were second in line and a huge crowd built up behind us shortly thereafter. Chinese New Years crowds could be compared to those for 'Golden Week' in Japan, 'Memorial Day' in the U.S., and the October long weekend in Australia. Not pretty definitely.
I don't know what the guy next to us on the plane had been drinking (or smoking), but his breath and body odour came straight from Satan's backside. The flight otherwise was good, but we were glad to disembark before we passed out due to noxious poisoning. Maybe it was a very poor attempt at terrorism. As I lugged my bike through customs the official waved me through, as the always great Japanese customs officials do, but also wanted to ask if I was on some sort of cycling tour. Hahaha, yeh, good one mate...
After offloading our bags and the bike to be couriered back to Myoko it was good connections all the way through to Kanazawa on the efficient as always Japan Railways, though we were very lucky to get the last two seats on the Kyoto-Kanazawa leg.
Kanazawa and Omi
Rather than catch the overnight train to Myoko we decided to stop in Kanazawa for the night and see the beautiful Kenrokuen Gardens in the morning before continuing on. We have both been there before more than once, but never in winter, so we didn't want to pass up the opportunity. After arrival and a quick meal we headed left out the eki (note: this was to prove a crucial point) to find a hotel for the night. After we had wandered for sometime we found ourselves in the delightful old Nagamachi samurai district. Being quite late in the evening by now the district was virtually deserted. As we ambled along there was a light snowfall which leant itself to one of those wonderful, slightly surreal, episodes of life when one feels they are enjoying a unique experience, that is almost disconnected from reality. Maybe the feeling you experience is somewhat like being in your own movie is probably the best way that I could describe. Warm fuzzies is maybe another...
However as we came out in the nightlife area we began to find that all of the hotels were full. It was now past 11pm and in desperation we even inquired at the desk of one hotel that would have charged your first born child - but even they were full. At the public phone in the foyer we began to hear the same from all hotels - "sorry, we're full" (except it was Japanese). I located a "Townpage" nearby (English phone directory) and pointed out a couple of hopefuls to My wife. Lo and behold the Kanazawa Business Hotel had a room - but we had to hurry because they wanted to go to bed.... Ironically the hotel was less than five minutes walk from the eki. If only we'd turned RIGHT. The proprietors were a lovely old couple who treated us like long lost grandchildren. The establishment itself looked like it had not changed one bit since the 1960's. It did not matter as we at least had somewhere to sleep and a nice hot furo. My wife tried to stay up late writing an essay but I woke up at around 3am to find her crashed out with the computer on screen saver...
In the morning the Kenrokuen Gardens and nearby castle were abuzz with tourists. A pity but it was still worth the stopover. Kenrokuen is rated as one of the three best gardens in Japan, but THE best in my humble opinion. We took almost two rolls of film and were only stopped from starting on a third by a faulty camera. Our friends Scott and Alison stopped on the way through and were likewise blown away. As a city I have always loved Kanazawa and think I would pick it as my number one city to live in Japan if given the choice.
After our visit it was back on the train heading north. We got off in Itoigawa, next to my old posting of Omi, and were met by our friends, Kaori and Atsumu Ishida. They took us out to our old haunt of Suntmock where it was great to meet up again with many members of Idobata, my old evening English class in Omi. One of the ladies told an amazing story about being on top of the WTC the day BEFORE it was hit. She flew out immediately afterwards and the first she knew of it was when she arrived back in Japan and it was on all the TV channels in the airport. And we thought six weeks before for us was close enough...
At Suntmock with Idobata members
After our late lunch it was back on the train to Naoetsu, then a bus to Wing Market/Jusco where we proceeded to trawl through the various sports shops looking for snowboard gear. We eventually bought some new boots for My wife and some new bindings for me. Everything else was secured second-hand at a fairly good price from Hard Off - the Japanese equivalent of Cash Convertors. You know the people that have usury down to a fine art. We were lucky to get the board that My wife did, a nice little Santa Cruz model for ¥15,000. Some gaijin came in just after us looking for boards and remarked what a good deal it was, and that they would have bought it if they had seen it first.
After the completion of our purchases Tadao (My wife's father) came down from Myoko and collected us. Back in Myoko there was the usual overgenerous helpings of food from Michiko (My wife's mother), plus the chance to meet Aya, our new niece. Saya, Aya's sister, had grown up so much but was still her genki funny self. The next morning I slept in for awhile before heading out for a half day boarding, then onsen, with my old mate Todd.
In the evening our friends (Scott, Alison, Damien, Jodie) began to arrive for a two day stay at the Green Bell log cabins near Akakura. We can highly recommend these cabins and the owners are particularly nice people - constantly shuttling us around in their car and even refunding some money to Sachiko (My wife's aunty who works at the tourist office) after realising there was a mistake in the total he charged. The cabin was well equipped. They even had a karaoke machine - which received a good thrashing the following night and kept up quite a few of the neighbours I'm sure. No pictures are published here (to protect the innocent), but they're pretty b****y funny, let me tell you. The day spent skiing/snowboarding at Ikenotaira was great. The snow was awesome and the weather was hardly cold. They do need to fine-tune some of the speeds on the chairlifts though as they felt like a slingshot coming off, as shown by the imprints of skiers on the opposite snowbank.
The really funniest part of the day was when a rather contrite Scott came in at lunch and explained an incident that had happened during the morning. Apparently Jodie had picked him off earlier in the day with a rather juicy snowball. Later as he came skiing one of the runs he saw her face down on the slope with a Japanese guy trying to help her up. Picking up a large snow chunk he charged toward her screaming, "IT'S PAYBACK TIME......!". What as surprise as he homed in to find it was not in fact Jodie, but a poor local with a look on her face like a rabbit caught in the headlights. Scott dropped the snow and quickly skiied away trying to pretend that he had not just embarrassed the whole of western civilisation. The two locals probably still wander the heck was going on with the crazed gaijin....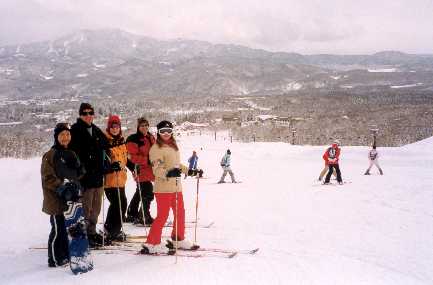 Tackling the slopes at Ikenotaira
Building a snow bear during a break
The next evening we went down to our old favourite Yamagishi's and introduced the others to okonomiyaki and chu-hai. It was a truly fun evening that included some shadow puppets and the proprietor gaining the signature of the 'will be famous' Damien. After we dragged ourselves back outside we made, nay stumbled, our way to the 7-11 to buy some more snacks and chu-hai, which had suddenly become everyone's favourite drink. Jodie was particularly hampered in the snowy, slippery conditions and made friends with the road on more than one occasion. I could never get the camera out quickly enough to take a photo, which was probably a testament to my condition too. Well stocked up we grabbed a cab back to the cabin and enjoyed the aforementioned night of karaoke. The next day, for some strange reason, everyone was late getting up and not particularly in the mood for skiing.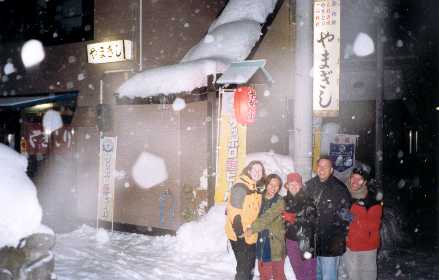 Some happy satisfied clientele outside of Yamagishi's
In the afternoon Jodie and Damien headed down to Tokyo. In the evening we had a meal at home, then Alison crashed while Scott, My wife and myself went up to Akakura to vist an old friend of My wife's and have an onsen in her ryokan. She insisted on not only giving us free use of the onsen but also plied us with drinks and food beforehand. In the morning it was cleaning up before checking out. We had a look at My wife's school, were served another humongous meal by Michiko, did some shopping for souvenirs, then headed out on the train to Tokyo. Just before we left we happened to find a lost gaijin at the tourist office. This guy had made his way up to Myoko on some vague recommendation but was not even carrying a phrase book. It was his lucky day as we were able to explain some of the local sights to him and translate some maps. I can't believe that somebody would come to Japan and expect a lot of people to speak English, especially in the countryside...
Tokyo
Arriving in Tokyo we booked into the very convenient, but not exactly cheap, Kinuya Hotel - just beside the Kesei Ueno eki. However we couldn't really complain as it seemed a lot of hotels were very busy, it was convenient, and they actually gave us triple rooms at the price of doubles because they didn't have any doubles available. We had a walk around Ameyoko (the old black market area), then headed to Akihabara (the electronics district) where I bought a very cheap second-hand laptop for my mum. Back in Ueno we had dinner at a great izakaya before turning in for the evening. We weren't hungry in the morning so we just skipped straight out to Narita on the train. It was a great flight back and we even flew straight over the top of Mt. Fuji. Normally we're given seats on the right hand side of the plane from where it can't be seen, so this was really a bonus.
Scott and Alison stayed an extra night in Tokyo and hooked up with Jodie and Damien to give the karaoke another workout. For some more pictures click here to see Scott and Alison's site of their travels. I'm not sure though that the karaoke made it's way in there either...