Malaysia & Singapore 2002
Visitor number (since September 2002):
Satays and laksa meet bleeding ears..
It hardly seemed that we had been in Shanghai for 18 months. Time had flown so fast since we left Australia. We'd managed forays home to Japan quite often - My wife more so who seemed to be there every other weekend. Well, that how it appeared to some of her family and friends anyway. So it was time to get on the plane and have an old style Christmas. You know, cold ham, sitting round outside, going to the beach, keeping the noisy anklebiters happy. Well AUSTRALIAN old style then...
On the way to Adelaide we were meant to spend a night in Singapore but when we got there there was a serious monsoonal downpour happening. Figuring there wouldn't be too much sightseeing to be had with a layover we ran to the transfer desk and managed to get ourselves on the connection leaving in 15 minutes. Of course having walked from one end of Changi airport we then had to sprint to the other end to make the connection. Our luggage didn't make it through but Singapore Airlines were great and delivered it out free the next day. Mum was shocked to see us in a day early. We had a great time there catching up with family and friends and eating ourselves silly. Of course there was the admin type things to do too, such as sort out banking stuff and things at the house. The garden at Seacliff was looking a little raggedy but apart from that the tenants seem to be doing a pretty good job. We bought so much food and picked up so much from storage that we ended up posting two suitcases back. It was only a short time home (too short), then it was back on the plane again to Singapore.
Singapore
The flight to Singapore was good, but as with our flights to Australia we got stuck up the back of the plane. Singapore is a clean and green city and I think that is the type of prototype that Shanghai is working on - with a long way to go... It was a short ride to the Keong Saik Hotel (with very small rooms) in what we later found out was the former red light district. Though if my memory serves me well there was a lot of old Singapore that was a red light district. We indulged in some wonderful laksa and satays for dinner before some leisurely shopping and an early night. In the morning I enjoyed a walk down to the train station to book tickets for that day. In hindsight it ended up that we shouldn't have stayed the night in Singapore and caught an overnight train instead. On the way back I stopped at a couple of temples and watched some tai-chi with swords. I'm not sure about the concept of finding inner peace while you're hanging onto a dirty great weapon. Sounds like something the Yanks would attempt.
To Kuala Lumpur
The 'express' (sic) train was not a memorable one. Well, maybe it was, but not for any good reasons. We only managed to get about ten minutes out of Singapore station before grinding to a halt at a siding, where it remained steadfastly stuck for the next hour or so. The a/c felt like it was turned to about minus 10 and we had to sort through our bags to put on a lot of extra clothing. We didn't have any winter stuff (naturally) so it was four t-shirts all round. Lunchtime came and we didn't have any food because (we thought) we were running late and had to get to the train. The clock in the station must've been about 10 minutes fast so hence we didn't buy anything. A conspiracy with the caterers on the train maybe? To start with when I went to get something the conductor fiddled me badly with the exchange rates between Singapore dollars and Malaysian ringgit. To make matters worse they only had one type of noodles for sale (flatulent, or maybe fried, duck I think it was) and they were damn awful. How do the caterers decide these things? I just imagined two railways staff having a conversation like,
"Hey Wahid!"

"Yes Ibram?"

"Wahid, what is the worst possible flavour noodles we can have on the train this month?"

"Satay goat's underwear of course Ibram"

"Wahid, you son of an unprosperous camel! They stopped making those last year..."

"Ah yes Ibram, you who fell from a tall coconut tree when he was young, now I remember. How about fried duck? The infidels will really hate that one."

"Yes of course, you are right Wahid! May your second wife produce children like the stars above..."
Kuala Lumpur
Finally and gratefully on New Years Eve the train slid into the brand spanking new KL Sentral railway station where we very happy to see the smiling face of my old friend Azimah. We first went back and dumped our bags at her place in Pandan Indah then headed back into the main part of town for some shopping, food and a glimpse at the festivities in Merdeka Square. Azimah took us to some of the food stalls near her work, where I've been before with her, and where as normal the food was fantastic. I had my usual large helping of satay. Azimah confided that she can't actually cook because she always eats out. With the variety and cheapness of food there it's easy to see why. If we ever move there (which I think I would like very much) we would do exactly the same.
Before heading off to Merdeka Square we stopped in SOGO and stocked up some Japanese goodies that we wouldn't be able to get in Shanghai. Down at the square the place was rockin' but also doing it's best impersonation of Shanghai with swathes of seething humanity. I could barely make out the stage but My wife and Azimah were just left to look at the back of heads. In the end we gave up and celebrated midnight quietly back at home. The next morning it was traditional roti (fried bread) and kedai kopi (strong coffee) for breakfast at a local cafe. mm mm. (see below)

Breakfast at the local cafe in Pandan Indah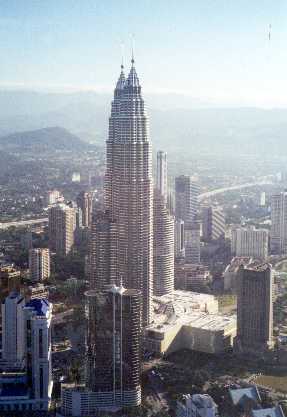 P.T. from the K.L.T.
We stopped at a nearby internet cafe to check our e-mails but came away with some substantial hearing loss. My goodness - it was worse than a rock concert. It seems the place was filled with adolescents playing games and trying to see who could get their volume the loudest. The vendor seemed happy to stand by and do nothing. After some urging he turned down the volume on one computer - the user promptly twisting it straight back up! There's a definite lost youth culture thing happening there I think
A little later the three of us went to meet another old friend of mine Ahdurah. It was great to see Ahdurah again, who you can always count on to be funny, boisterous, and just a little loud. We met her at Utama from where she took us for a Hari Raya feast with some friends of hers then dropped us back at Utama. My wife and I jumped in a taxi headed for the popular Bintang Walk area but there was just too much traffic.
We eventually gave up and caught a commuter train to Masjid Jamek. From there we walked around the all the usual sights and spent a long time shopping (particularly VCD's and software) at the Sentral Market. As evening fell we stopped at some strangely quiet food stalls to eat. It didn't take long to find out why they were so quiet. The food was awful! I never experienced anything like it in Malaysia before. Sloppy Mee Goreng with tiny chicken bones and rare satays - eerrgh... We left most of it behind.
Breakfast with Azimah ------ and ------ a slightly strange 'western' menu
In the morning it was up early again for breakfast with Azimah at a local restaurant (see above). My wife and I were amused by the western meals they offered (see sign). After breakfast it was a sad goodbye with Azimah, then we walked up the hill through a park to the KL Tower (see above). Afterwards a taxi took us down the hill to the Petronas Towers but we found that you had to book tickets to get in. The earliest was much later that day so we didn't bother. I had actually been there four years before when it was still just a building site. Azimah had lined up a visit with some friends who worked on the site and they even took me out onto the lighting tower on the 83rd floor. After that kind of experience it wasn't too much a loss for me, but it was too bad for My wife. We had a quick sushi lunch at Sogo then headed down to the bus station to go to Melaka.
Melaka
Buses leave for Melaka regularly. In fact, in KL buses seem to leave regularly for EVERYWHERE. And at an extremely good price. This one cost us 8RM (about US$2) for the three hour trip. I had been to Melaka some years ago and there had been quite a few changes. Nonetheless, it still remains a nice little spot to spend some time. Melaka is famous as an old trading port where the mixture of Malay and Chinese cultures blended into a unique society known as baba-nonya. After escaping the harassment of various taxi operators and the like at the bus station we made our way down to the old baba-nonya quarter where we tossed up between the Baba Hotel and Puri Hotel. The Baba won because they could offer a deluxe room. What's the difference between the rooms? Well a deluxe room is tiny as well...but it has...a window...!
Checking in at the Baba Hotel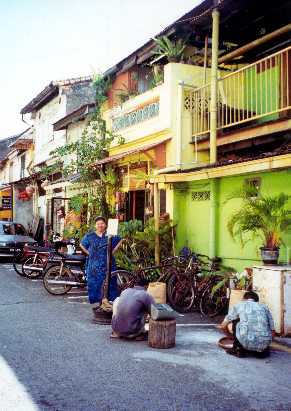 We enjoyed having our first hot showers in a few days then strolled down to "Glutton's Corner" where we had some okay fried oysters but some of the most delicious satays known to mankind - Kajang satays. Kajang is famous throughout Malaysia for it's satays and obviously some of it's townsfolk had either moved across the hill to Melaka or sold their secret recipe of herbs and spices to the local Melakans. After the meal we strolled (as best we could under the weight of what we'd just eaten) through the old streets. It was fun to see how the local Chinese community clubs come alive in the evenings. At one groups of elderly people were sitting around chatting when suddenly "Achy Breaky Heart" came on over the loudspeakers. In a flash they were all up line dancing! I'm sorry Billy-Ray Cyrus but you have a lot to answer for...
One of the local back streets in Melaka
Our final morning in Malaysia we started off slowly and walked around the local streets looking in some of the wonderful old antique, second-hand and curio stores. Some of the old temples were interesting, especially the ones that seemed to try and appease as many gods as possible. If you want to be prosperous and/or live a long life it seems you gotta cover all your bases! We visited an old house and museum where the tour guide was intent on getting us all through in record time. If we dawdled for too long in one room (viz., more than 10 seconds) she just went straight to the next room and started her spiel, regardless of whether we were there or not. We moved on to the old Dutch Standthuys building and the nearby ruins of St. Pauls. Apparently that famous apostle to the Far East Francis Xavier had been buried here briefly before being dug up and taken somewhere else. Macau I think. Old St. Franky got around a bit in his day - even AFTER he had carked it. Maybe he didn't really die and he's sharing a beach resort with Elvis somewhere... We dropped in at the Maritime Museum before a yummy bowl of baba-nonya laksa for lunch. After that there was nothing left to do except grab our bags and head to the bus.
Time to go
The bus trip provided nothing much in the way of interest apart from some incredibly rude passengers and the bored customs official at the Singapore border who started singing a Japanese song to us. It was nice to actually enjoy ones self crossing a border. That night there was a last round of satays and ice ka-chan in Singapore before being ushered to the airport in the morning by an overwhelmingly friendly and informative taxi driver. A nice break - and just like Arnie, we'll be back...