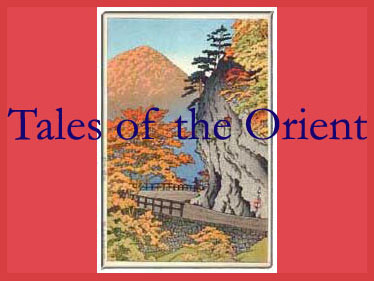 Putuoshan Island 2001
Visitor number (since September 2002):
Not another Buddha....?
One of the unfortunate consequences of working at two different schools is that our holidays do not not always line up. So it was with the Easter / May break where we only had a few days off together. Whilst friends spoke of their plans for Thailand, Vietnam, Tibet and even Australia we had to decide on something a little more local. We eventually eschewed the idea of Beijing and settled on Putuoshan Island - an overnight ferry ride south of Shanghai. My wife and I were joined by our friends John and Ticha who also work at SIS and SAS respectively.
The three days almost got off to a disastrous start. We left the apartments a little late and got caught in an horrendous traffic jam, plus our taxi driver proved to be one of the few sane and/or careful drivers in Shanghai who proceeded toward the wharf on the Bund with what seemed undue caution. However given the tight timeframe we would have preferred the services of a kamikaze spirit with a highly developed death wish. This guy even insisted on not letting us off opposite the wharf but doing a U-turn, which took an extra few minutes. Finally with a sprint to the boat we got on board less than five minutes before the gangplank was hoisted.
The trip itself was very nice. We settled into our first class cabins and waited on deck for awhile as The Bund and Shanghai slipped away from view. There was a meal in the cafeteria plus a couple of hours in the karaoke bar before settling down for the night.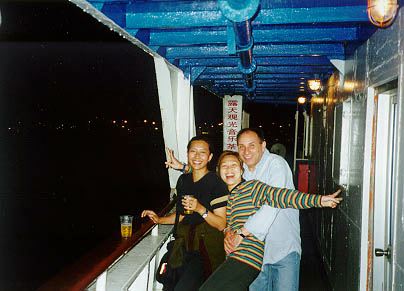 My wife, Ticha and John on the way down the Huang Pu (Yellow River)
In usual Chinese fashion we were awakened by announcements at 5am and couldn't get back to sleep. When the boat pulled into harbour at 6am we almost made the mistake of getting off. In fact it was instead a stop on the way that we were unaware of and we finally sailed into Putuoshan at 7.45.
From the harbour we caught the bus to the Xilei Hotel that our friend Lin Ling had booked for us. After the staff had gasped their way up the hill to our rooms with our heavy bags we had breakfast in the restaurant and rested up for the morning. They had boasted of a 'Chinese / Western buffet breakfast' but the western component consisted of stale croissants, fried eggs and coffee. Around 11am we set out walking up the road on a beautiful sunny morning. We had worried about rain but the weather was great all weekend. It rained every night but was fine every day. I had thought we had to turn left out of the hotel to go to Puji Temple but it was in fact right. So we had to walk for quite awhile before ending up at an old nunnery and library. I liked the walk - but I'm not sure about the others...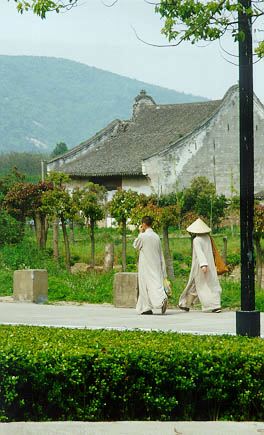 Nuns on the run...er, road
These were to be the start of so many temples, convents, monasteries, etc., that they almost started to merge into one. Toward the end of the weekend we were taking less and less photos. A real case of not another temple...
Putuoshan (Mount Putuo) is one of the four sacred Buddhist mountains in China. Therefore there is a veritable overload of Buddhist structures on the island. Most of them do not appear to have suffered too much during the Cultural Revolution although some have been converted into hotels and other forms of accommodation. There are still others in a dilapidated state that have been occupied en masse by the proletariat.
For lunch we stopped at a small roadside stall and bought some pot noodles and drinks. After payment the elderly owner called over his wife in the nearby house to bring some hot water for us. Seeing our number she bid us come into the small front courtyard of their house wherein she set us down at a rickety table and proceeded to turn our instant meals into something a little more (Chinese) homely. It seems country people always seem to more hospitable whatever country you're in. I haven't tested this argument in all countries yet. In fact I've tested it in very few, so let's just call it a theory...
Pot noodles in the front courtyard with our gracious (but camera shy) host
Having our hunger sated and happy with our experience we ventured on to 100 Step Beach, the delightful Puji Temple and nearby market streets before calling it a day. After dinner at a local seafood restaurant we called it a night, worn and weary - especially John who had decided during the day to help a couple of the local carriers push their load up one of the hills.
The market streets near Puji Temple
Sunday morning we were a little slow getting up but we once again woke to a nice warm day. We decided against doing a lot of walking and opted instead to travel mostly via local buses. We visited Fayu Temple and Fayu Cave, had lunch at a local seafood restaurant, then caught the cable car up to Huiji Temple. We had bought return tickets on the cable car but opted to give our calves a workout instead and walked back down the mountain to Fayu Temple. On the way down we passed some pilgrims coming up who would stop every three steps to pray. It would be a long day for them - or evening, as by this time it was about 4.30. It was a bit steeper and longer than we'd thought and our legs were rather wobbly by the bottom. My wife said our knees "were laughing". Not much else was I'm sure.
At Fayu Temple I was quite amused by the continual gathering of monks around a notice board who were vigorously gesturing, pointing and chatting about what was on the attached notice. It first reminded me of my footballing days when we would gather around the club notice board on a Thursday night after practice to see who made what team and who was playing where - or not at all. My next thought was that it was like a teachers duty board where some are happy with the appointed duties and others are far less so. It seems there are parallels in life wherever one goes.
Just as we arrived back at the hotel it began to lightly rain. The others were a bit tired so they took the opportunity to rest up. I was enjoying the chance for exercise and was not tired so I took a walk by myself before sunset down to the harbour and around the southern tip of the island. The spring rain was not heavy or cold and I experienced some Omi (Japan) deja vu - out in the countryside away from buildings, pollution and anything remotely western in nature! I couldn't even find somewhere to stop for a coffee. We did little again that night except sit around and watch Chinese TV.
Monday morning we had a short trip down to Guanyin Leap but had little time to see anything before we had to check out and catch the afternoon fast ferry. The crowds were thick on the ground by Monday because the Labour day holidays had started, so we had picked the right time to visit. The fast ferry back was very comfortable though we sat in the wrong section to start with (hard seat instead of soft seat). We caught a bus back to Shanghai, then a taxi back to our apartment. It was a very fast trip back of 4.5 hours compared to the 14 hours there, but we enjoyed both modes of transport nonetheless. It was a very nice interlude from big city Shanghai, although the pizza and coffee for dinner on Monday went down very well...