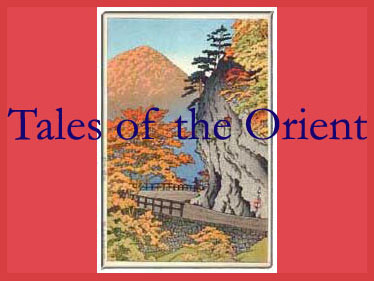 Guangdong and Sanya 2000
Visitor number (since September 2002):
Food, shopping, sunshine and an exercise in modes of transportation...
Our trip to Guangdong and Sanya (Hainan Island) was an exercise in Chinese transportation. We used just about every form possible, apart from those with two wheels (although that was available if we had chosen thus) and got to see signs like the one below. We also did so much shopping (esp.clothes, shoes and CD's) that we had to buy two extra bags! Along the way we ate ourselves silly with delicious Cantonese food, especially yum-cha for breakfast.
I'm not sure they pay attention to these...
We started our trip in a soft sleeper car aboard the K99 train bound for Kowloon. Two Chinese gentlemen were in the carriage at the station but the younger one left before the train departed. After talking about them between ourselves a little, how embarrassing it was to find that the elderly gentlemen across from us could speak both excellent English AND Japanese. C.H. Mok (see below) is a wise and educated man who had served both the foreign traders and Japanese in Shanghai prior to the 1949 Revolution. Unfortunately this led to him suffering some problems, especially during the Cultural Revolution. Apart from our new found companion the trip was very interesting as we passed through the Chinese countryside and encountered the occasional steam train.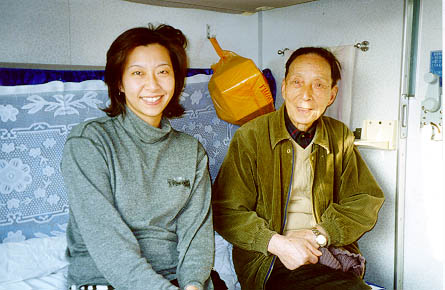 My wife and our travelling companion C.H. Mok
After 26 hours we arrived in the booming city of Guangzhou (Canton) and booked into the Victory Hotel on Shamian Island, a delightful leafy leftover of colonial history (see below). Apart from all the shopping we enjoyed some yum-cha, poking around the old markets (for some incredibly cheap souvenirs), and seeing an ancient emperors tomb at a local museum. On the way out to the bus station the next day we were amused by the virtual zoo at the front of one restaurant. It is said that the Cantonese will eat anything with four legs, except a desk!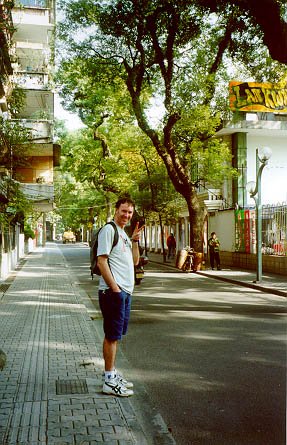 On one of the back streets of Shamian Island
We managed to negotiate our way onto a bus heading for Zhuhai, which borders Macao. We had tried to slip across the border here during our honeymoon to HK and Macao in 1998 but failed to do so. We decided we just had to see what we had missed. The bus out was rather scary as, apart from the gung-ho driver, some of the new elevated highways are up to 10 stories from ground level with little in the way of safety barriers. We booked into a hotel in Zhuhai after finally convincing the desk staff that My wife was Japanese. Until then they were only interested in giving us two rooms. After it was all sorted they proved to be the most helpful and fun staff we encountered. Their dim-sum was also the best we had. Zhuhai is a clean and bright city modelling itself somewhat on Las Vegas. However there is not much there, apart from some good shopping for shoes and a nice waterfront. During our stay we were accosted by some well dressed beggars and also some 'hairdressers' touting for business.
We had hoped to take a boat up the Pearl River from there to Zhouqing but it was no longer operating so we managed to catch a just departing minibus for a six hour ride. We bounced along the way to Cantonese pop songs viewing the countryside and passing through towns that all seemed to specialise in one product, be it lighting, building products, flowers, materials, machinery, or whatever the government in their wisdom had deemed.
Finally in Zhouqing on Christmas Eve we were rejected at one hotel by a very rude woman who didn't believe My wife wasn't Chinese. It didn't matter as we made our way across the road to a nice hotel with helpful staff and a pleasant view over the lake. We spent the evening walking around the local markets, sampling some of the local dumplings, and adding to our CD/VCD/DVD collection.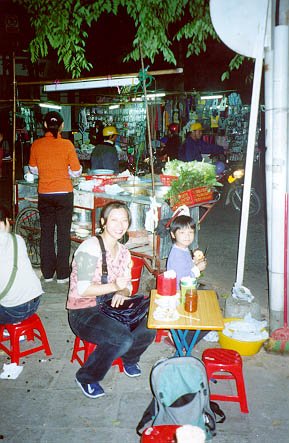 Fried dumplings in Zhouqing market and the company of the vendor's daughter
On Christmas Day we ventured around the Seven Crags Park which lays in the middle of the lake. In Chinese legend the seven limestone crags are meant to be seven stars that fell from the sky. It was a beautifully quiet and pleasant place with some caves and old architecture.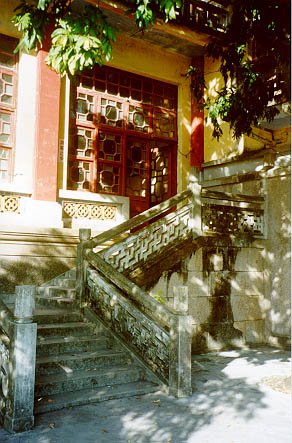 An old monastery at the Seven Crags
One thing that surprised me there was the number of gum trees, including acacia and melaleuca. This was not to be an uncommon sight as we travelled on. In fact some places on Hainan Island looked like North Queensland with banana palms scattered amongst the eucalypts. We ate two western style meals in Zhouqing, which proved to be the two worst of the whole trip. Unfortunately we spent so much time at the Seven Crags we didn't get to see nearby Dingushan. Perhaps next trip....
On top of one of the crags
The overnight hard sleeper berth from Zhouqing to Zhanjiang was clean and comfortable apart from the labourers who got on with us in Zhouqing and wanted to chat to the wee hours. Made me wonder why they bought 'sleepers'. As the train neared Zhanjiang some touts came through offering ferry tickets to Haikou. Does the boat leave from Zhanjiang? 'Yes'. About how long is the trip 'About 4 hours'. That sounded pretty good to us (the fast ferry takes 3) and we outlayed our 70RMB each there and then.
Alighting from the train we were led by our new friends to some new clean minibuses. Unfortunately we walked straight past them and were herded a few hundred metres down the road to a bus station where we were deposited onto a very tired looking 'sleeper' bus. We were left waiting on that for an hour or so until the bus was thoroughly cheek-to-cheek with passengers. As we finally got going a couple of Chinese customers began to argue loudly and one forced his way off, despite the almost physical restraint of the touts, now turned conductors. It seemed that we had been duped onto a bus heading for the port at Hai'an. The bus made several more stops on the way out of town to take on even more passengers and cargo. We were fortunate in getting a top 'bunk' because we didn't have to share it with up to 4 other people like those poor unfortunates on the bottom.
About 3 hours later we alighted from that bus and were promptly shovelled on to another 'shuttle' bus which took us a bare 300 metres to the port. They even had the cheek to try and collect an extra 1RMB fare for the service, which ourselves and several others refused to pay out of principle. We just made it on to the next ferry, a leaky looking old tub. This ancient mariner promptly wedged itself reversing from the wharf, and we were stuck for another 45 minutes. The journey was mildly rough, and after the toilets filled up with seasick passengers, the room between the two passenger cabins served as an impromptou 'vomit' room. My wife, who is not a terribly good sailor, just blotted out the many and varied retching noises until we made it safely to Haikou. All up the trip took about 6 slow hours.
In Haikou we escaped the clutches of touts and a very persistent taxi driver, and with the help of some friendly travel agents got onto a 'gorgeous' bus (that's what they called it) heading south. From thereon was a pleasant and uncrowded 3 hours to Sanya on the southern tip of Hainan Island. We stayed the first four nights at the very nice Pearl Seaview Hotel and the last at the famous South China Hotel.
With the climate, a muslim minority, and many immigrants from nearby countries Sanya is more like S-E Asia than China. We enjoyed white beaches, warm weather (24º-28º) and delicious cheap food at the local markets. It was far less crowded than I expected and the sellers (apart from the taxis) were certainly not pushy. I had thought it might be a Chinese version of Bali, but those fears were quickly dispelled. We just relaxed most of the time, our major decisions being about what to eat or whether to take a nap or a walk. Most tourists seem to stay out at the resorts but we enjoyed going to the markets in town where we would be greeted effusively by those who we had bought meals or goods from previously. In fact it seemed the price of meals kept going down. There were quite a few Russian tourists in Sanya and I also ran into one of my students and her family on the beach.
Looking down the beach from the Pearl Seaview
Unfortunately all good things come to an end and we had to leave on New Years Eve to make our way back to Shanghai. We were due to get a 6am flight but got held up by the hotel staff at checkout and only got to the airport at 5.53am. The plane was still waiting but they wouldn't let us on. In fact the security woman was quite rude, and refused to do anything to help. They re-booked us onto a flight at 7.50PM and we sat around wondering what to do. About 6.45 I heard a call for the boarding of China Northern flight at 7.50AM via Shenzen and Shanghai to Dalian and went to ask about that. From there a couple of very helpful ladies assisted us onto that flight, so in the end we didn't have to wait too long. It was the only problem we really had with the timing of transport the whole time. Apart from that we loved the area and would like to spend more time exploring around the region. We even joked about buying an apartment there. There could be worse places....