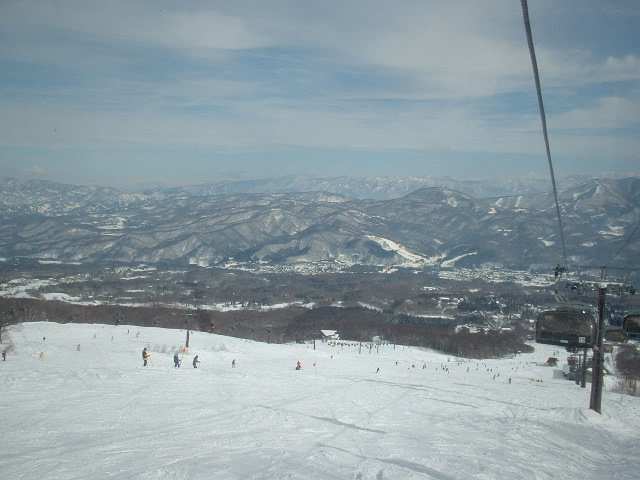 Overview
Winter skiing options in Myoko's powder snow and the surrounding regions in Shin'etsu-kogen are almost endless. The Myoko ski fields were founded in the 1930's making it one of the oldest established ski areas in the world. With it's rich history, you have the ideal holiday place to enjoy a total Japan ski resort experience. Indeed, the area offers some of the most outstanding skiing in all of Asia - yet just a train ride from Tokyo.
Suginohara boasts the longest ski run in Japan (roughly 8.5 km) and Akakura Onsen Ski Resort possesses the steepest ski run in central Japan (38°) - rather nefariously refered to as "The Wall".
In October 2007 the Myokokogen area was designated by The News Corporation Travel Section as one of the best ski resorts in Japan. With great quality powder snow, high level bumps, refreshing long runs plus ski schools and parks for small children, the area has something for all skiers.
There are nearly 25 ski areas in the Shin'etsu region, and all within 30 minutes of Myoko City. Below is a clickable map (courtesy of of the Snow Japan site) of the major ski areas and below that a list of text links for all resorts - also courtesy of Snow Japan.
Lift Prices, Discount Coupons, Ski Packages
Numerous bargain packages can be found - particularly mid-week or in low season. As an example, for the 2007/2008 season Akakura is offering a day lift ticket + lunch + gear discounts for only 3,800 yen whilst Ikenotaira is offering a mystery 'black box' package of hotel, meals, onsen and two lifts starting at just 7,700 yen. Tangram is offering a lift ticket, crepe, drink and onsen for only 2,600 yen. Check at one of the local tourist offices for packages and coupons before heading up the mountain.
Alternatives:
Other discount coupons can be downloaded and printed from the respective resort websites (some Japanese may be required)
Discount tickets and packages can be purchased at local 7-11 stores before heading up the mountain. For example Ikenotaira offers a lift ticket, onsen and drink for only 2,500 yen
Cross-country and Nordic Skiing
For those wanting to get off the piste and into some unexplored country contact Bill Ross at Dancing Snow or else try SARC Telemarkers.
Click here for a resort map (.pdf)
Map and links courtesy of Snow Japan
Akakura Onsen is a member of the Classic Mt. 6 Group. Other members include Nozawa Onsen, Zao Onsen, Shiga Kogen, Kusatsu and Hakuba Happo One.
The useful Myoko ski and Shin'etsu-kogen reference page. Here you will find information on the longest ski run in Japan and the steepest ski run, plus Myoko snowboarding and other activities in Myoko-kogen / Myokokogen / Myoko-shi (one of Japan's best ski resorts), Akakura Resort, Ikenotaira, Suginohara, Madarao, Kurohime, Togakushi and Arai. Discover how to ski Japan, snowboard Myoko, cross-country and nordic skiing, find out about ski packages, plus see live snow cams Japan. Ski Niigata and Ski Nagano at Myoko ski resorts