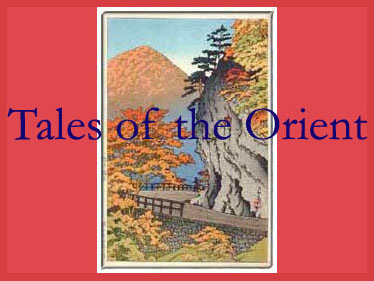 Yunnan 2002
Visitor number (since September 2002):
BACK TO: Xi'an | BACK TO: Sichuan | FORWARD TO: Guangxi
I have a dream. A dream of a world without tour groups....
In the bus station at Panzhihua there resides a frustrated ticket seller. Part of it may due to the fact that the buses listed on the timetables do not necessarily go at the times shown and therefore incurs various forms of abuse through no doing of her own. There was a 'gorgeous bus' listed as leaving at 10.00am, but we found out within about 10 minutes that it would 'maybe' not be going. So we went back to the window and bamboozled the attendant who couldn't understand why we wanted to now go on the earliest possible bus at 8.30am (tentatively). After some angst we were able to change tickets, squeeze our way into the back seats of the bus and we were on our way to Lijiang, a town bordering on the mythic area of 'Shangri-La'.
The scenery of the green mountains we passed over was truly beautiful, with old stone villages, stands of gum trees, abundant rivers and terraced rice fields rolling off into the distance. Moving further in the roads became goat tracks in some stages with treacherous land slips and deep boggy mud. As we moved away from lunch at 1.45 the bus negotiated one stretch at almost a constant 45° angle. Quick calculations flew through my mind - if we went over the embankment at 30 kilometres per hour with what force would we hit the ricefields 4-5 metres below? The roads began to improve but by Dongsheng the journey had taken it's toll on the bus and we were, like on our way to Jiuzhaigou, forced in for running repairs. After Donsheng there were many small mines (as in taking out of the bowels of the earth, not as in 'don't step on that mine!') along the road to Lijiang. It was quite obvious that many locals were trying their hand at extracting something valuable but we were unable to determine exactly what. Around 6.45pm the bus finally wheezed and stuttered it's way into Lijiang, the place that was to end up as the favourite stopover in our journeys.
Touts at transportation centres tend to fall into two categories - the 'honest joe' just trying to drum up some business for their small establishment, and the 'evil eddie' who basically just wants to screw you over for as much money as he can. In Lijiang we were fortunate to be greeted by one of the former - Zhao Gang from the Naxi Guesthouse (PH: 0888 5120893). We were to encounter 'evil eddie' in the form of Larry at Guilin. More on him later. The Naxi GH is a small family guesthouse on the edge of the old city and gave us a twin room with dinner and breakfast for around 25RMB each. The older ladies of the family clucked around us like surrogate grandmothers, force feeding us large quantities of delicious food and local tea, and it would have to be the friendliest place we have stayed at in a long time. The only problem was that it had been raining for a week and that made the solar hot water virtually unusable.
After settling in and a nice meal we went into town to check our e-mail. When we had finished we jumped in a taxi and showed him the guesthouse card. He pondered it for half a minute or so, put the taxi into gear, took us a 100 metres and then pointed down a road going through the old town. He was then very miffed when we refused to pay the fare. The guesthouse was at the other end of the old town so he was either a) stupid, b) easily lost, or c) trying to rip us off. Probably (b) as it seemed to be a popular activity amongst the Lijiang cabbies. Despite this we enjoyed the walk through the beautiful old town at night and the earlier rain seemed to have deterred others from coming out. Having been in the town only a few hours we lost our way heading back but luckily encountered an Italian couple who were staying at the same place. They pointed out that we should make sure we turned left at the 'bigga tree' which remained me of the old joke about bigots and Italian forests.
The next day in Lijiang was much busier as the rain had lifted somewhat and the manifest tourist hordes had descended once again to shout, spit, take copious photos and otherwise generally hinder our progress along the streets as much as possible. We spent our first full day just taking in the sights of the old city and closeby, plus a bit of shopping - including winter clothes. The highlight of the day was the Naxi Cultural Education Centre, based in an old Naxi house and run by a local family, which was a very well spent 5RMB. In order to have some warm showers we decided to move rooms and ended up in the centre of town at the Swiss Snow Inn near the river (see photo). The room was quite cheap (80RMB without attached bathroom) but the owner was decidedly more businesslike and hardnosed than we would have liked. He convinced us to take a windowless room that ended up being quite noisy and then did not want us to change. It was also clear that we were being charged a lo wai premium. So if anyone else was to contemplate staying there I would advise to be a bit fussier and haggle hard! We enjoyed our dinner at the nearby Prague Cafe and this pleasant little establishment were to regularly provide our breakfasts for the rest of our time in Lijiang. Late at night I tracked through the cold and returning rain to purchase some tickets for the traditional Naxi music show the next evening. In typical administrative fashion you could only buy tickets for the next show, so by going at 10.00pm after the previous show had finished I could ensure tickets for the next day. More on the show soon.
Our next morning was late with a leisurely breakfast at the Prague Cafe. We walked up to the pagoda on the hill (15RMB entry) that overlooks the town and shopped along the way. Afterwards we stopped at the Sakura Cafe for what was a quite average lunch, although it did have a very nice setting by the river. Just near the waterwheel entrance to the old city is the Lijiang Backpackers Club (a.k.a. Old Town Guest House). The very helpful staff here helped us to organise taxi tours to both Tiger Leaping Gorge and Snow Dragon Mountain. On the former they hooked us up with two Hong Kongers therefore splitting our costs by half. We had some snacks before heading out to the music show in th evening, or should I say, music and chat show.
The leader spent a large portion of their time on stage talking. Mostly in Chinese (of course), but when he spoke in English many of the natives saw that as their cue to begin chatting with each other. In addition the hall was packed, with some arrivals up to 25 minutes late and others leaving 10 minutes early, the mobile phones were ringing, the snacks were being ripped open and munched, plus there was the usual haze of cigarette smoke. In other words normal behaviour that one has come to expect in the middle kingdom. If that could all be excused the actual six pieces of music played were very nice! In light of all the following we must say that we enjoyed the folk music played in the park at Hangzhou which was much cheaper and more enthusiastically appreciated by the small crowd.
The next two days were spent touring out of Lijiang to Tiger Leaping Gorge and Snow Dragon Mountain. With all the rain the access to Tiger Leaping Gorge was extremely restricted. We had hoped to do some trekking but that wasn't possible. So we buddied up with two Hong Kongers to visit the gorge. Along the way we stopped at the First Bend of the Yangzte River, the Stone Drum and a statue dedicated to the Long March. All rather boring but the area around Stone Drum provided some very good photo opportunities (see picture left) including the sight of many people still wearing their blue and grey 'mao suits'. The road to TLG was in horrendous condition with many landslides along the way plus the fording of a fast flowing stream. The road through was closed at Hu Tiao Gorge at 9km in and we could go no further unfortunately. Because of the flooding due to rain some of the lookouts were closed but the power of the water was quite an amazing sight to see (see picture below). We thought even more so than Niagara Falls. I would like to come back to TLG one day and ride a bike the whole 32km through.
The next day we spent touring Snow Dragon Mountain and surrounding areas. It was all a bit boring and expensive really. First we got screwed over at the toll gates (100% loading, huh?). There was a huge queue to go up the mountain in a gondola (110RMB) but upon arrival all that could be seen was a whiteout. However light relief was provided in the form of a very large sign that said '4,450 Metres - Push yourself beyond your limits'.
Anyone spot the crucial missing word there? E-mail your entries to me and the first correct winner gets to be smug and self-satisfied. We only spent enough time there to get our photo at the marker cairn then joined the line to go back down again. Hardly a satisfying experience. Maybe if the weather was kinder. From there we proceeded to a series of tourist haunts that are not worth mentioning and were finally dropped off at the Black Dragon Pools on the edge of town. We wanted to walk up over the hills back into town but apparently there have been incidents of knife robberies (being robbed with a knife rather than say, having your knife stolen) so we thought we walk via the back streets instead.
We stayed that night back at the Naxi Guesthouse. We arrived a bit late but they kicked a guy out of one room and we ended up sharing a 3 bed room with a Japanese guy. After a huge rice breakfast Zhao Gang walked us out to get a taxi and also gave us some bananas to eat on the bus to Dali. Such nice people. After turning up at the wrong bus depot we still had enough time to make our way to the correct terminal next to the Naxi Hotel. The bus trip was quite comfortable and we got to see a HK gangster movie and a Shirley Temple classic dubbed in Chinese. Probably not two I would've chosen myself. There was a stop that appeared to be in the middle of nowhere but was in fact where we were meant to get off. So we ended up trekking 30km back via taxi (and 34RMB).
Travellers rave about Dali. After our experiences in Lijiang we found it a pleasant enough place but nothing too much to get excited about. We first looked at the No. 5 Inn for accommodation but found the place dirty and the staff not that helpful. We were shown a dirty room that they quoted 60RMB for. When I pointed out that the rack rate was 50RMB they decided to match that price. As My wife and I contemplated one staff member told the other in Chinese, "We should have said 30". We moved on from there to the Dali Hotel where women fought in the lobby and the toilets were unflushed and filthy. We fled from there too and made our way down the mall wondering what to do next. We were approached by a wiry old man who took us up Huguo Lu
(a.k.a. Foreigners Street) to Yuan Yuan (a.k.a. No. 4 Inn). It was great location with a nice garden, helpful staff, plus free washing and internet use so we signed up for a clean room with bath for 120RMB. Being just down from the bus station there were always numerous tour groups passing by. Often the guide would stop at the gate and point out all the lo wai staying inside. After lunch we just spent the afternoon wandering plus booked a couple of tours and our train tickets through Michael Yang - a small entrepreneur on Baoai Lu whose card says that he sells antiques, gives financial advice, translates English, books tours and donates sperm. Actually I lied about that last one.
We were fortunate enough in our timing to be able to visit both the Wase and Sha Ping markets on consecutive days. Both are just local markets so there is probably not too much there of real buying interest to foreigners. Maybe a 2RMB open air haircut (see picture). However there are endless chances to consume plenty of photographic supplies which is exactly what we, and every other foreigner present, did. As usual a stroll through the back streets away from the hustle and bustle was always rewarding. The market at Wase also involves a very pleasant boat trip across the lake. We had lunch at a local restaurant in Sha Ping but could find nothing that we trusted in Wase so we settled on a drink and some chips that were so bad that we gave them away to the ship owners hyperactive daughters who didn't think they were that awful obviously. We were waiting for ages at the dock for a supposedly missing person and there were the usual loud arguments between captain, tour guides and workers. Eventually we cast off minus the 'phantom' who was left to his or her own devices in returning. There was no minibus waiting for us for at the dock. When it did eventually arrive we were shoehorned in badly, THEN the guide crawled in on top! His bum was so close to my face I think I could smell what he had for breakfast. Probably eggs, green vegetables and rice, with a little soy sauce.
The rest of our time in Dali was spent shopping (including some of the wonderfully cheap marble products), consuming coffee in the various cafes (and the great oatmeal brownies at Sunshine Cafe!) and reading books. At quite a few places you can swap or buy books - though it doesn't tend to be cheap. At some guesthouses you can conduct a bit of a scam by picking up some dusty old books off the shelf that look like they haven't been read since the Cultural Revolution then taking them to a book cafe to swap for something someone might actually want to read. At the famous Cultural Exchange Cafe the owner, apart from plugging his own book at least three times, stated that the purpose of his establishment was to 'expand the mind'. Still didn't stop him from asking an additional price on top of a book swap that was also designed to expand his wallet. On our last evening we whiled our time away on the verandah of the Book Cafe whilst being treated as exhibit by the passing tour groups. They even took photographs. At least they didn't throw acid at us, like the bears in Beijing Zoo, or rattle the fence, or try to hit us with sticks. Having survived that experience we hailed a taxi going to the station for an overnight train to Kunming. The taxi followed a suicidal minivan driver to the station and once inside we were set upon by a bunch of excited schoolkids who wanted to practice their English. They too were going to Kunming, but on a later train, so we were actually going to get some sleep.
Kunming and Xilin (Stone Forest)
Arriving in Kunming station around 6am I became aware of a couple of women who hurried into the carriage as everyone was getting off. I realised that I'd seen this kind of thing before. What they do is look for things left behind and make off with them before the owners realise they have forgotten them or the attendants come through to clean. I shouted out to one of them who promptly scarpered, opened the carriage door on the wrong side, quickly made her way across the tracks and was gone. We wandered out of the station bleary eyed and found a taxi to take us to the hotel. There was a slight snag in that after we were under way it became patently obvious that the driver had no idea where the hotel was. After he stopped a couple of other drivers he was finally able to register where we wanted to be taken.
We stayed at the U-Choice Hotel overlooking the river and a plaza and it was a very good choice indeed. We decided to do some handwashing and it was then that I discovered the bloody marks on the bathroom washline. What was this? Some bizarre suicide attempt? Or perhaps flossing of a very large gap in someone's teeth? My wife decided to rest up while I went to look for the airline ticket office. It ended up not being anywhere that the Lonely Planet said it should be. I guess that's what happens when your book is a couple of editions old. I think ours is so old it still lists Sun Yat Sen as the Chinese leader. I walked back to the hotel and made a phone call to find out where they actually were which ended up being only about another minute or so from my furthest point of trajectory. D'oh! After filling in a long form I didn't really understand, doing the whole gesturing and phrase book thing, being sent down the road to get a photocopy of our green cards (fortunately someone who spoke English rescued me on the street at this time or I'd still wandering the streets of Kunming aimlessly), and then reluctantly forking over a fistful of reminbi, I was able to finally walk from the office clutching our tickets. I had asked for tickets in two days time but a cultural misunderstanding was to bring us unstuck there. More on this debacle soon.
Later in the morning we took a taxi up into the hills to to see the Bamboo Temple. It was okay, nothing great. Afterwards we decided to walk across the adjacent bridge toward an old chairlift. There was a young girl there who was charging 1RMB to cross the bridge which we reluctantly paid. We woke up the attendants and started negotiating for a ride down on the chairlift but agreed it looked too decidedly antiquated for us. Walking back to the temple guess what happened? The woman wanted another 1RMB to cross back. Did we pay? Of course we did - but with even more reluctance and some witty barbs. Not that she would understand of course. However, having rejected the chairlift we now had to find a way to get down the hill. There was a minivan waiting outside the temple staffed by the female guide from hell (or a very close address to there). She quoted us a very high price which we immediately rejected. We asked another driver who was taking some other lo wai down the hill. He was happy to take us until this women came over and shouted very long and hard at him, and suddenly he was dissuaded from the idea. Thereafter for a few minutes there a was a mini cold war until another potential passenger came along. She convinced him to top up the price that we were offering and finally we were able to get back into the city for lunch.
After lunch we headed over to the Yuan Tang Temple just as the rain started pouring. We spent maybe 30 minutes tucked under the main gate while all around the rain thundered down. We soon found out that the Italian couple from Lijiang had been also hiding away in another part of the temple. They confided in us that the rain was nothing unusual for them. They were flying out that afternoon to Laos and had it rained for 13 out the 15 days they had spent in China. Poor souls. We had had hardly any rain in comparison as we had come from the north down rather than the south up. In the evening we watched a show on the plaza for a little while then went off for a walk. There were loud claps of thunder and shards of lightning as we sauntered through the back streets and lanes but there was fortunately no rain to accompany them. We selected a restaurant and ordered ourselves a large and absolutely delicious bowl of 'Across the Bridge' noodles. We would most wholeheartedly recommend several bowls of these to any traveller coming to Kunming.
Back at the hotel we tried to book some train tickets to Xi Lin (Stone Forest) but they were apparently sold out. So we paid to go on a Chinese tour instead. Later the helpful manager came up to our room to return the money informing that foreigners were not allowed on the Chinese tours (translate as: "the tour company cannot be bothered having lo wai on the trip"). He suggested we try the bus station in the morning. What to do now?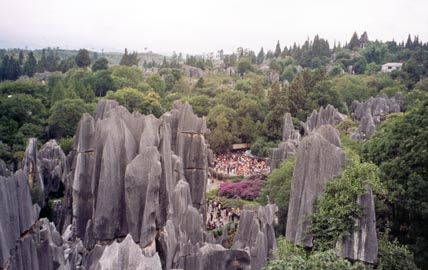 Well, what we did was get up early in the morning and catch a taxi to the train station. Surprise, surprise we were quite easily able to buy train tickets on a very comfortable train with plenty of empty seats that was underway to Xi Lin shortly thereafter. Touts came through the train trying to flog us Chinese tours from the station at Xi Lin but we declined. This was to prove, along with our rejection the night before, to be one of the very good things that happened to us. The groups we encountered during the day were loud and awful. Look at the picture on the left for an example of the crowds. If you ever got lost all you had to do was to stop and listen for the crowd noise. But given the decibels that these tour groups were emitting you could still be several miles off! I think that in the karmic scheme of things it must work out that if you are a bad travel agent in life you are sent to hell where you are then given a job as a Chinese tour guide. The day started out quietly but descended into tour group hell soon enough. At one point in the park there is a rock worn away. It seems that one is obliged to see if you can fit your neck through the gap. Dozens of people were pushing and shoving to see if they could do it. I'm not sure what it means if you can actually get your neck through. I watched for a while just hanging out to see the person who gets stuck and then if the paramedics would come with the Chinese imitation patented 'Jaws of Life' to free them. No such luck this day though.
Once we wandered away from the main tourist ports of call things quietened down considerably and it was all very nice. By early afternoon we had seen everything that wanted to see and went looking for some lunch. The Shilin Hotel seemed nice until it appeared they were serving one star food - at four star prices. We ended up dining on some very hot noodles at a small place outside the guesthouse that did not demand your first born when you walked through the door. Later we ambled around the adjacent Ashima Recreational Park. Obviously it had never enjoyed much patronage as it was closed and vandalised. From there we walked through the adjoining village where it seemed every able body was busily involved in the production of the tourist trinkets for the stalls in the park. Down from the village we were able to pick up a free bus that took us back to the station.
Arriving back in Kunming we were hounded by an over friendly tout who started with the obvious questions such as, "Do you need a room?" then quickly moved into, "What's your name? Where are you from? What hotel are you staying at? What is your passport number?". He didn't actually go as far as the last one but we decided to do the safe thing and feed him so much misinformation it would please both Saddam Hussein and George Bush combined. Shaking him finally we wandered up the the main street until we found a place to eat called "The Brothers Jiang" (on Dong Feng Lu near the Holiday Inn) where we indulged in yet another steaming bowl of ATB noodles.
In the morning we journeyed out the pagodas which were not worth the taxi fare. We checked out of the hotel, had lunch at KFC, then caught a taxi to the airport. That's when disaster struck. We couldn't find the flight number and it suddenly dawned on us. We were a day early. I had asked for tickets in two days time. To the person in the ticket office this meant the day AFTER two days whereas to me it means two periods of 24 hours. The ticket counter was not interested in changing our tickets (they were special teacher discount tickets) so we hitched a lift back to the ticket office in town with a very friendly shuttle bus driver who sympathised with us, offered us cigarettes, took a detour to return an umbrella left by a passenger, and then finally dropped us in town refusing to take any payment. Such nice actions took the edge off our frustration I'm pleased to say. The ticket office reluctantly agreed to refund our tickets and upgrade us to a flight that day. They didn't mention that they would deduct 20% PLUS charge us full price for the new tickets. Eventually we gave up, went back to U-Choice and booked ourselves in for an extra day.
With all the tourist traps in Kunming covered we just decided to fork out 30RMB for Video on Demand at the hotel. We enjoyed the absolutely bizarre 'Orgazmo' and thought that 'Summer of Love' was an okay HK no brainer before heading out for another bowl of, you guessed it, ATB noodles. The late evening choice of movies was one of most possibly the worst ever movies made, 'Reform School Girls'. The plot involves lots of women with really bad 1980's hairstyles lying around in lingerie - even outside in the desert! All actors would have to have been at least 25 (so much for reform school girls) with one old crone who must've been pushing close to 40. The female warden was obviously enlightened - she wore a skin tight leather nazi uniform. Where did the writers come up with this stuff? More importantly what were the investors thinking...? I didn't get to see the end because I dozed off but I'm sure it ended up with the shy girl killing the bad women in a very gory way and avenging the death of the retard friend who was unfairly jailed, bullied and who eventually committed suicide because her stuffed toy was destroyed by the cruel fat matron. If anyone out there is a fan of the movie and wants to tell me the ending, well please don't bother. Try using the time to get some good shock therapy instead.
It was a lazy morning the next day followed by a very nice lunch at the Jack West Italian Restaurant down the road from the hotel. It had some nice ambience too until they put on 'Take Me Home Country Road'. Do they honestly believe that anyone likes that kind of stuff? Okay, I'll agree that there possibly is, but those kind of people only listen to it because 'Reform School Girls' is not on TV. Things picked up as they played 'California Dreaming' followed by a medley of 60's and 70's hits. However by the time 'Tie a Yellow Ribbon Around the Old Oak Tree' blared over the speakers it was time to cry for the check and head for the airport yet again.
To our relief our flight to Guilin was listed that day and we had a smooth passage through checking in and security apart from those who think that if you stand behind the yellow lines it means they can cut in front of you. We thought it wouldn't be busy but as boarding time neared most passengers thought they boarding a train. There was pushing and shoving, people sitting in the wrong seats and yelling to each other, bags too big for the overheads. One guy was even standing up and wandering around as the plane taxied. And through it all the attendants did nada. We had asked for a window seat and been given one - except it didn't have any glass in it. On the positive side, at least we were away and heading for the final province in our journey - Guangxi.
BACK TO: Xi'an | BACK TO: Sichuan | FORWARD TO: Guangxi