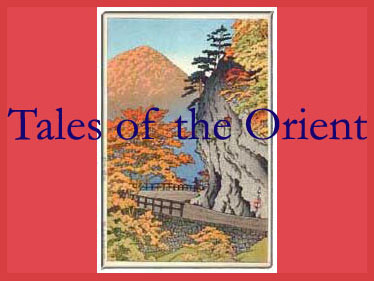 Nanjing, Yangzhou & Zhenjiang 2001
Visitor number (since September 2002):
I like Chinese...
If you thought you were going to reading about our trip to Harbin and Jilin we must apologise, but we fell victim to the China travel syndrome and thought we'd be left sitting around twiddling our thumbs for Chinese New Year. We were booked to fly out to Harbin on the 21st January but in a classic Chinese scenario our bookings were mysteriously cancelled. The call from the agent starts something along the lines of, "Do you still need those airfares for this weekend?". "Oh, you mean the ones I booked three months ago and have been in constant contact with you about?". And of course things just deteriorate from there...
Obviously someone had more money or guangxi (connections) than us. So we had to cancel all the hotels and return flights, give back the clothes we'd borrowed, etc., etc. Pain in the backside really. My wife didn't mind so much as she was a bit recitent about the temperatures - estimated to be somewhere in the minus 20's and 30's.
Grant and Rob, who both teach with me at SIS, felt sorry for us so instead we booked last minute onto a 3 day Chinese tour that they were going on with their partners - all at the bargain price of ¥450 (A$100). Gorden came too, and although he didn't get out much, some of his photos can be seen at his website.
We set out early at 6am for a 7am departure from People's Square. There was only a minibus waiting, so this was only going to be a very small tour - and no karaoke on the bus. Apart from the 6 of us there was one Chinese family of 3. So it was a promising start, but it was soon to become clear that our guides had obviously not done this trip too often.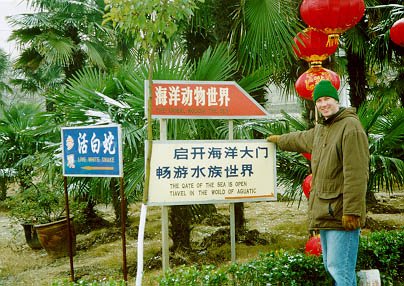 Just one of the many strange signs we keep finding
After a 4 hour trek through the rain the driver took us down several small lanes in Nanjing, asking for directions as he went along. Finally we found our way to Sun Yat Sen's mausoleum. Sun Yat Sen is revered as the father of modern China and most Chinese see this as a sort of pilgrimage. We were told to leave our gear in the bus as we would have lunch first. They became a bit upset when 4 of us decided that we would have lunch at the first place we came to. We were meant to go to the places they had planned for, viz, where they could get a cut or a free lunch for taking a group there. By the end of the third day they had given up trying to get us to do what they wanted.
In revenge they took us straight to the mausoleum so we didn't have our cameras. The rain continued to pour all afternoon but that didn't deter our guides or the other hordes of tourists. I'd hate to see it on a nice day! After that it was down to a historic street - dominated by Coke, McDonalds and KFC signage - and the rain continued on...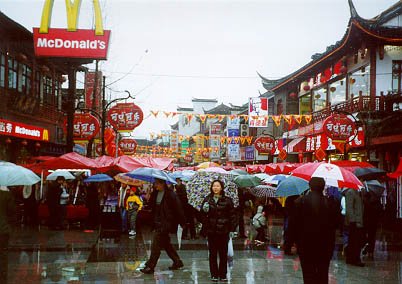 Combining the historic and new in Nanjing
There's quite a bit else to see in Nanjing - but we unfortunately didn't get see any of it. It was back on the bus with one hour to Yangzhou and our first big surprise. The place we were staying in was a very nice 4-star hotel, about one year old, and not the rundown dumpy 1960's place we'd expected. After such an early start we did little that night apart from have dinner in the hotel restaurant.
We woke up the next morning to another surprise (apart from the nasty breakfast) - a layer of snow outside. This was actually far preferable to the rain of the previous day and also added a special touch to the parks and lake that we visited in the morning. It was unusual to see some of the new buds on trees that had been trying to break through now frozen.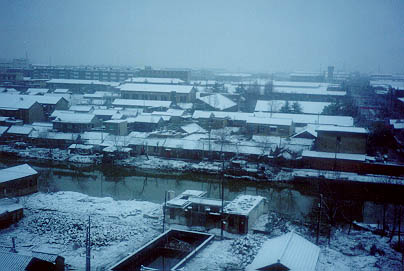 View of fresh snow from the hotel window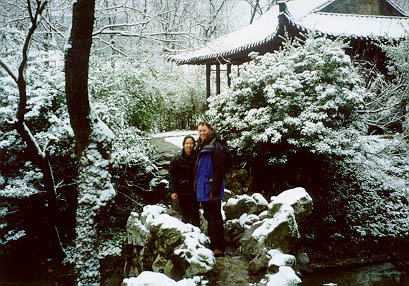 At the park in Yangzhou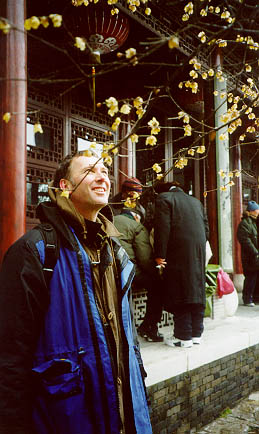 Some frozen buds (with a
mahjong
game in the background)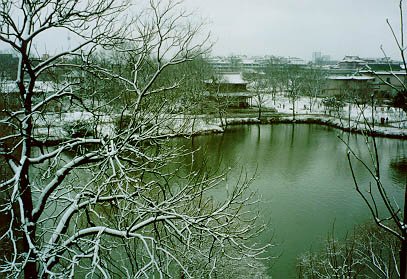 The lake in Yangzhou
A trip to a temple was planned in the afternoon but after a loud discussion with the guides Grant, Lin Ling, Rob and Maggie all opted out, leaving us to trek off with the remaining Chinese family and guides. The restaurant we were taken to for lunch was cold, drafty and expensive. Even the Chinese family complained loudly about it. After waiting for our noodles and dumplings for half an hour we simply gave up and walked out, once again not pleasing the guides. We found a small roadside stall down the road and ate there. Surprise, surprise, the guides came down and joined us about 10 minutes later.
Prior to entering the temple we were treated to a ringside seat of our first Chinese brawl. Someone had knocked over a nearby street vendors table and things went from there. We've grown used to seeing regular loud verbal entanglements but this was first fisticuffs we'd encountered.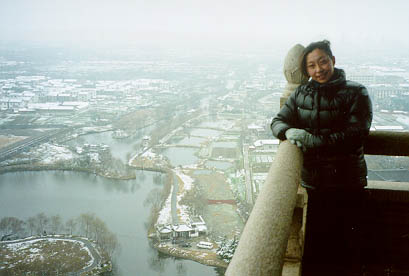 My wife at the pagoda, looking back down the lake
The temple was actually at the other end of the lake and we could've walked there if they didn't want to force us to the restaurant. However it worth the effort to go (even climbing to the top of the pagoda there), and after a couple of hours there we headed back to the hotel for a rest. We had dinner that night by ourselves at a fairly average Italian restaurant before we decided to visit a nearby bowling alley and amusement arcade. The others had gone to a local bar but had to leave after one drink when a fight started there. Our taxi driver tried to take us the long way home. A trip that was less than 5 minutes took about 20. We paid the driver the standard ¥6 fare instead of the metered ¥15 and he got quite upset when we just walked off. I guess he was either a complete idiot or a shyster.
There was another early start the next morning with no time for breakfast. At least this morning we were only having to cope with fog. In fact as the day went on the weather got better so once we got back to Shanghai it was sunny, though still VERY cold. We took a ferry across the Yangzte River before stopping at some parks and temples in Zhenjiang. Not before we got lost at least once of course.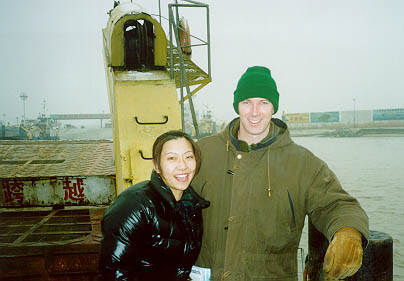 ...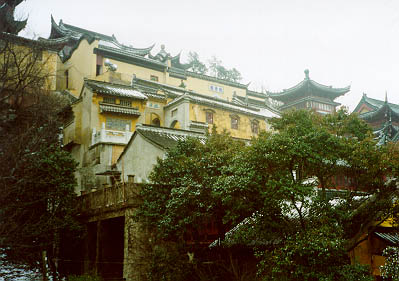 Ferry 'cross the Yangzte -----and----- Temples at Zhenjiang
After lunch at a cafe and getting caught at a rail crossing for 30 minutes or so it was back down the highway to Shanghai. At least it was a lot cheaper than what we had originally planned I guess and we had more time to just relax over the break. The money saved can go toward our next trip - tentatively Tibet/Western China or Three Gorges at this stage. Harbin and the Ice Festival will have to wait till another time...